Home of the Original Danish Kringle
Our pastry dough is rolled and folded to create more than 48 layers.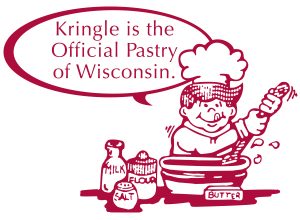 Made the old fashioned way, by hand from scratch, our Kringle's were voted Racine's best and recognized as "the dough that made Racine famous".
Made fresh and shipped daily all over the country, Lehmann's Bakery offers more than 36 rich Danish Kringle flavors with a variety of fruit,nut and gourmet fillings.
Also choose from a selection of quality fresh-baked pastries, strudels, crown cakes, coffee cakes, muffins, bars, cookies and seasonal specialties.
Order online or stop by Lehmann's Bakery Store in Sturtevant to enjoy Kringle's and our other bakery products fresh from the oven.